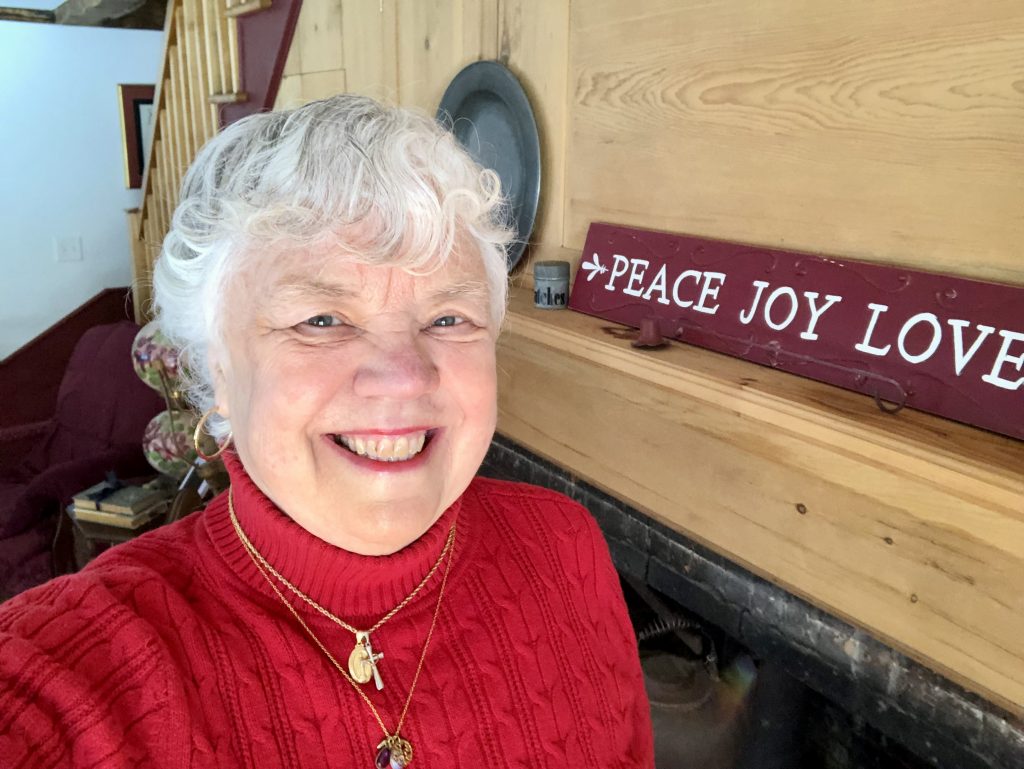 Lynn Durham is the mother of 3 sons (2 married, 4 grandchildren), a well-being coach and a joyful spirit.
Since her childhood days in Lordship, Connecticut where she would hold "health camp" at the beach for her friends, Lynn has always wanted to help people feel better and studied nursing to meet that goal.
A registered nurse, Lynn has taught nursing and coached people. She didn't think she was a writer but has published over 100 articles and columns. She is the author of From Frazzled to Fantastic! You're One Thought Away From Feeling Better.
Also she has written booklets – Welcome Wellness a Self Health Book and a Lenten reflection – The Way of the Cross and Resurrection. Her audio book -Dancing Gracefully with Life is available through contacting her.
Lynn is also a contributing author to other books – Touched By Angels of Mercy by Laura Lagana, Priceless Gifts, Using What God's Given You to Bless Others by Barbara Glanz, and Serving Productive Time by Laura and Tom Lagana to name two of them.
Formerly an adjunct professor teaching Women's Wellness and Spirituality and Health, Lynn is a past professional member of the National Speakers Association, National Wellness Association and the American Association of Therapeutic Humor. She has also studied at the Harvard Deaconess Mind Body Medical Institute in Boston where a fellow participant called her a glass of Prozac!
Lynn has shared her insights by presenting keynotes and breakout sessions at conferences and has been a retreat leader for companies and Christian groups all focused on well being. Through contact with Lynn on TV, radio, in person or in writing, people who want to release anger, anxiety and anguish, those who want to embrace, cherish and celebrate life change the way they see their world.
Lynn grew up along the Connecticut shore, raised her boys in the New Hampshire Seacoast area and now lives in the Lakes and Mountains region of New Hampshire.  She writes from her story filled eighteenth century home located near "Golden Pond" where it is said that K.D. Wiggins wrote Rebecca of Sunnybrook Farm as a guest there when it was open to tourists.
Real estate has been a love of Lynn's – building her home in the Seacoast and totally renovating her present 1750 center chimney cape. She has shared her experiences, wisdom and fun even with buyers and sellers as a real estate broker, making many new friends. When she finds time Lynn even puts a pen to paper to make drawings. Or you might find her on the dance floor or at a bridge table.
Whether we find her with a flower in her hat, or spinach in her teeth, Lynn brings her sense of joy in the journey wherever she goes.
Benefits
Employers are interested because employee well-being is key to:
Increased morale and loyalty
Increased productivity and focus
Healthier profits from:

Reduced absenteeism
Reduced use of health care benefits
Reduced injuries
Reduced worker's compensation
Individuals are interested because personal well-being is key to:
Better mind/body functioning
More clarity in decision-making
More energy
Healthier relationships